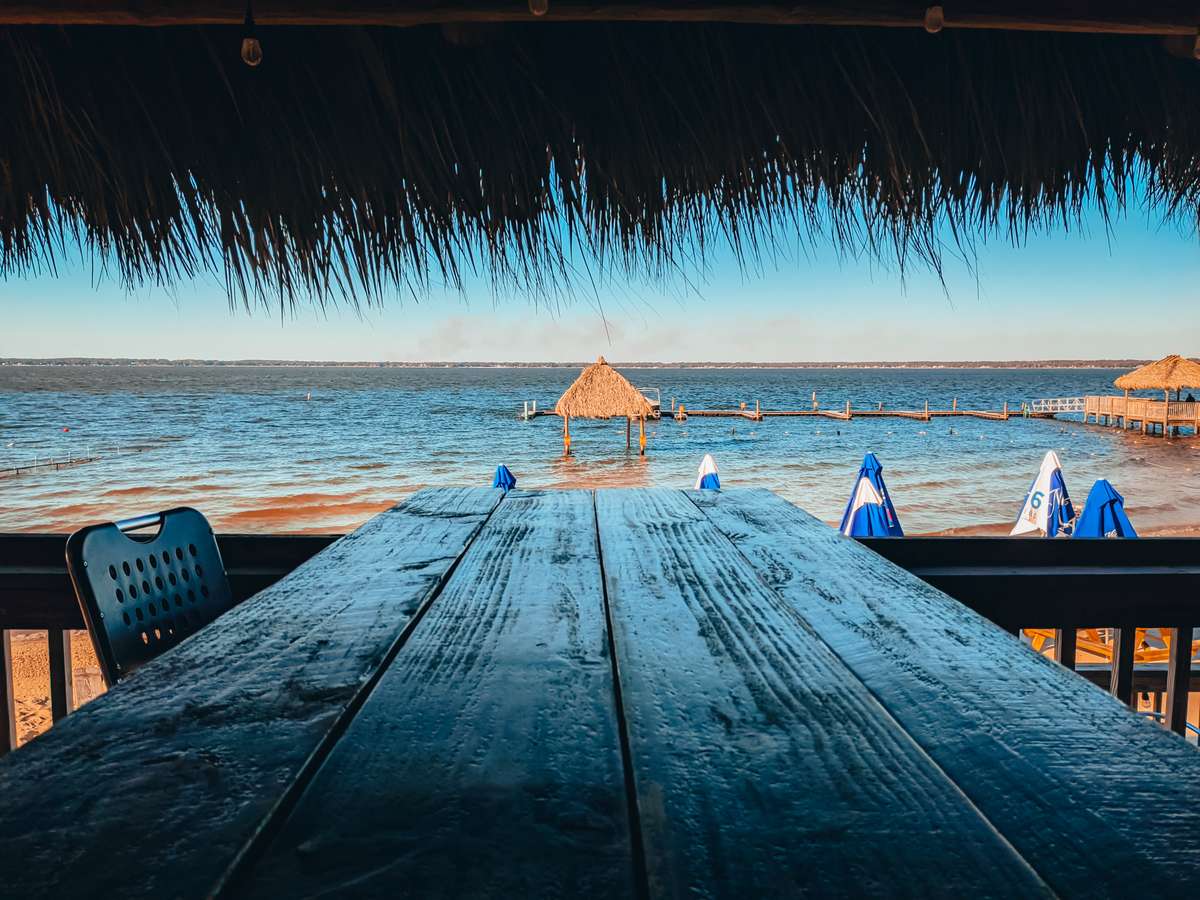 Lake Life
Waterfront Dining
Situated on the south shore of Lake Weir in historic Weirsdale, Florida, Eaton's Beach Sandbar & Grill offers spectacular lakefront views in casual, comfortable surroundings. View the wildlife, beachgoers and skiers while enjoying delicious Florisiana™ cuisine. The selections on our fantastic menu are inspired by Chef Del Rio's deep-seated culinary roots of Cajun, Creole, Low Country, Barbeque and Spanish cuisine.
Sunset Views
You'll love the excitement of the lake during the day and the calming, spectacular sunsets over the water in the evening. Be our guest in the upstairs dining area or enjoy delicious drinks and cuisine on our 1700 square foot wrap-around deck. Any time is a great time to visit for a memorable meal and handcrafted cocktails. Sit back, relax, and take in the sights and sounds on beautiful Lake Weir. It's almost close enough to dip your feet in while you dine.
History of Lake Weir
In Weirsdale, on the south shore of Lake Weir, a well-known spot will be coming to life again. The original founder Jay Eaton, a New Jersey resident, bought the white sand beachfront property in 1924. With the hope of developing another Coney Island, a 30-foot boardwalk over the water, a dive tower, a boathouse and even a three-lane bowling alley were built. Many local Florida residents and tourists made lasting memories there. Since 1943, the property was bought and sold by three different families. The Houser family (who's snooker billiards table is proudly suspended from the ceiling above the lower level sandbar), the Enos family (their grandchildren were known for their competitive swimming, which originated the annual Lake Weir Marathon swim that we proudly sponsor today), and now local Lake Weir residents Randy and Sue Keuntjes. With the complete rebuilding of the beautiful lakeside restaurant, the Keuntjes' hope has become a reality. The 6,000-acre recreation Lake Weir offers many kinds of wildlife and water activities such as fishing, skiing, kayaking, sailing, and frequent seaplane visitors; just a few of the things you may see sitting beachside. Arrive by land or water with their newly constructed dock and boat slips. Casual and comfortable dining with amazing sunsets over calm water awaits you.